The Vines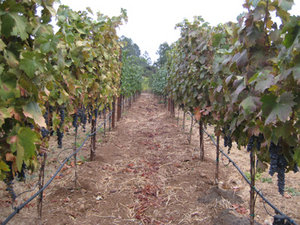 We are conscious that we are stewards of this land, and whatever we do will affect quality today and the future health of the land. Although we are not certified, we farm according to the rules governing organic agriculture.
Rattlesnake Ridge
The soils of this ancient volcanic area vary within a short distance from rich red loam to brown gravelly loam to soil with seemingly more shale than soil. In each of the five blocks, rootstocks have been matched to the soils, and heritage clones have been selected for their taste and complexity in the glass. The altitude, the exposure and the soil of the mountainside make for a unique opportunity to grow exceptional, ultra premium Zinfandel. Yields are strictly managed to allow each vine to put maximum effort into few clusters. Each block is vinified separately, and the final blend combines the best of each.
Dawn Hill Ranch
Located on the floor of Sonoma Valley in the alluvial soils near Sonoma Creek, the vineyard was planted to Zinfandel and the mixed black varieties typical of a field blend. We purchased the property in 2000. Dawn Hill's head-trained vines are dry farmed in the traditional old vine fashion.